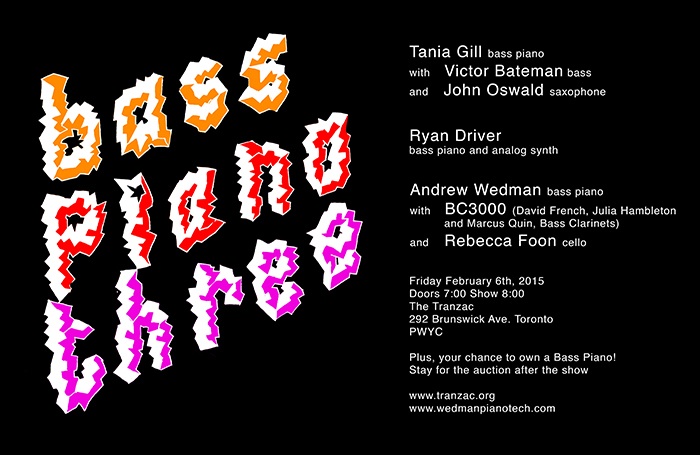 I will be joined by BC3000 (a bass clarinet trio with Julia Hambleton, David French and Marcus Quin) and Montreal cellist Rebecca Foon (Constellation Records). This ensemble will be performing works by Toronto composer John Mark Sherlock. Tania Gill will be doing an improv Bass Piano set with John Oswald on saxophone and Victor Bateman on bass. Ryan Driver will be doing a solo set on Bass Piano and analog synth.
The Bass Piano is a piano that has been tuned down a full octave to A220. I developed the Bass Piano through my experimentations with various altered tunings. The result is reduced tension in the strings and a unique tonal quality similar to bells or steel drums. With slightly unstable tuning and long sustains, strange and wonderful anomalies occur within its harmonics. As these extreme tunings can be difficult for pianos to adjust to, I detune old pianos, more and more of which are headed to the dump, repurposing these instruments so that they can be playable again.
The Bass Piano was debuted in Berlin in January 2013 with performances by John Kameel Farah and myself. Bass Piano II was presented later that year by Wavelength in Toronto with performances by Ryan Driver and Marilyn Learner.
Bass Piano III is an old piano from the Tranzac collection that was slated for retirement. This show will see this piano reinvented and an auction will be held to save it from going to the landfill.
poster by breeree